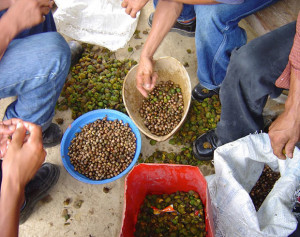 About Us
Finding a balance between people, food and forests
Maya Nut Institute is a nonprofit 501(c)3 public charity founded in 2001. While our mission remains the same, we changed our name from The Equilibrium Fund to The Maya Nut Institute in 2010. Our mission is to "find balance between people, food and forests" by teaching rural communities about the value of Maya Nut for food, fodder, ecosystem services and income.
We maintain an "open access" policy with our documents, materials, photos, manuals and other information. This is in keeping with our goal of sharing any and all knowledge about Maya Nut with as many people as possible as quickly as possible. If you are visiting this website and use information from it, please be considerate and cite MayaNutInstitute.org as the source. This will help inform more people about us and our work with the end result being increased conservation and reforestation of Maya Nut for the future.
Our organization works as a horizontal hierarchy, with individual country programs having as much autonomy as possible regarding program planning, partners, administration, spending and staff. Our goal is for each country staff, participants and/or partners to eventually spin-off and form an organization that can continue the work we started together. We believe that this is the best way to ensure program continuity and empowers them with a powerful tool to solve their own problems.